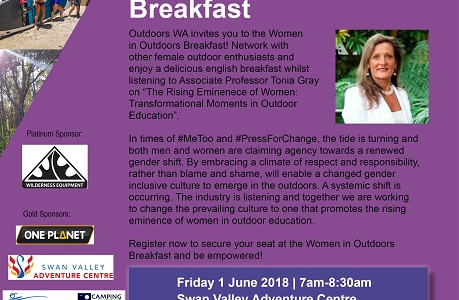 Outdoors WA invites you to the Women in Outdoors Breakfast!
Network with other female outdoors enthusiasts and enjoy a delicious English breakfast whilst listening to Associate Professor Tonia Gray on "The Rising Eminence of Women: Transformational Moment in Outdoor Education"
In times of #MeToo and #PressForChange, the tide is turning and both men and women are claiming agency towards a renewed gender shift. By embracing a climate of respect and responsibility, rather than blame and shame, will enable a changed gender inclusive culture to emerge in the outdoors. A systemic shift is occurring. The industry is listening and together we are working to change the prevailing culture to one that promotes the rising eminence of women in outdoor education.
Register via the link below.