Western Australia
The Goat Farm Mountain Bike Park  
The trail network located in Greenmount National Park was designed in line with the Western Australian Mountain Bike Management Guidelines. The MTB trail network was constructed in response to the use and construction of unsanctioned trails in the nearby John Forrest National Park due to unmet demand for trails in the area. The Goat Farm MTB Park provides technical challenges and a series of obstacles designed to encourage use of the sanctioned trails, which was part of the Department of Environment and Conservation's strategy to control the environmental impacts of unsanctioned MTB trail use.   
Australia
Dynamic Tension at the Mt Crawford Forest, and Tunnel Vision at Eagle Mountain Bike Park, Adelaide 
This study measured points along multiple transects once every three months for a year, beginning in September 2008. The trail width and cross-section profile were measured at 20 randomly chosen transect points at both locations to assess soil displacement, erosion and compaction.  
Results of the monitoring found that 95% of the transect points had either no change or narrowed in trail width and 92% of the points had little or no change in transect profiles. The remaining profile changes were attributed to the lack of conformity to the trail building guidelines. The Dynamic Tension and Tunnel Vision trails were well-designed and built according to the International Mountain Bicycling Association (IMBA) guidelines and have successfully managed to keep riders to the trail.   
International
West Bandy Creek Bike Trail, Big South Fork National River and recreational Area, US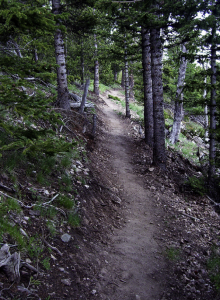 Side hill contour aligned trails, aiding water dispersal.
Photos by Jeff Marion 
The three-kilometre trail section is used 90% by mountain bike riders and 10% by hikers. The grade, trail position, soil type and narrow width were well designed for bike use. Thereby maintaining minimal peripheral impacts and requiring less maintenance. State-of-knowledge trail impact assessment and monitoring was used which involved modelling trail degradation processes and the interaction of influential variables. 
There were no informal trails near the sanctioned trail network. However, the research combined the evaluation of trails used by not only mountain bikes, but hikers, all-terrain vehicle (ATV) users and horse riders at Big South Fork River, thereby making it difficult to distinguish trail damages resulting from MTB users specifically. 
Mountain bike and other types of trails should always be designed to minimise the impact on biodiversity and heritage values, and several Western Australian planning documents advocate this approach. The benefits of mountain biking and having accessible trails for all levels of experience are widespread, ranging from individual health and social benefits to economic gains for local towns. The overall importance of MTB trails and networks to the community justifies the expected minimal impact on the environment from the creation and use of the trails. Well-designed mountain bike trails are key to ensuring environmentally appropriate trails that are valuable to users.