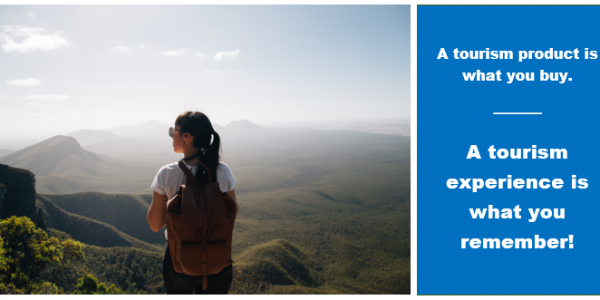 Do you want to learn how to take your tourism product and turn it into an awe-inspiring, positive, word-of-mouth, holiday-of-a-lifetime experience?
This half-day workshop examines the growth in experiential travel and why it is the fastest growing sector of the tourism economy. Discover new methods to make personal connections with your customers. Create experiences that are inherently personal, engage their senses and connect on an emotional, physical and spiritual or intellectual level.
This workshop covers a step-by-step approach to creating authentic experiences that resonate with your customers long after they have departed. Join us to learn:
What experiential travel is and why it has value
What visitors most want to experience and understand how to present customized experience opportunities
How to stimulate your customer's five senses and establish a "WOW!" moment
Places in the workshop are limited. Cost $25 (incl. GST). Register by 28 August using this link to Eventbrite. 
NOTE: The workshop is part of a 12 week Mentoring Program. If you are interested in being involved in the FREE mentoring program, please contact GSCORE.
About the Trainer:
Lenore Lyons has over 25 years of experiences as a trainer and public speaker. She has spent the last twelve years working in the tourism industry, including extensive experience in visitor servicing, destination management, and tourism marketing. Together with her husband, FACET Golden Guide winner Dr Dave, she established a tour company that was inducted into the WA Tourism Hall of Fame and won two medals at the QANTAS National Tourism Awards. Lenore is passionate about sharing her experiences and helping others to grow successful businesses.
This workshop is supported by the Foundation for Rural and Regional Renewal (FRRR) and the ANZ Seeds Fund, the Shire of Kojonup, Kojonup Visitor Centre, and the Great Southern Centre for Outdoor Recreation Excellence (GSCORE).