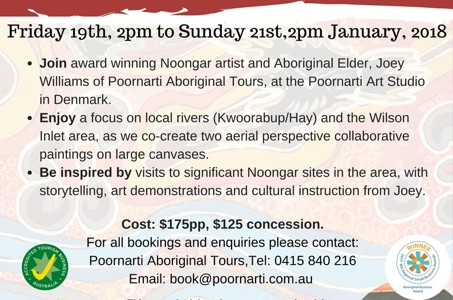 A weekend of art making and culture, along side award winning Noongar artist and Aboriginal Elder, Joey Williams of Poornarti
Aboriginal Tours. At the gallery, you will co-create two aerial perspective collaborative paintings on large canvases. These paintings
will later be displayed. We will go on excursions and explore significant Aboriginal sites of Denmark and its surrounding waterways, to gain insight, inspiration and material for the art, while Joey shares with you his knowledge of the local bush tucker, medicine and other aspects of Noongar lifestyle. There will also be art demonstrations by Joey, storytelling, songlines, song, dance and yarning.